Benefits:
Best heat transfer vinyl for long-lasting foil embellishments
Create multiple effects
Easy application
Available In:
12" Wide Rolls
Heat Transfer Foil
Amazing Screen Print-Like Foils
Order Now
Details
Click image to view larger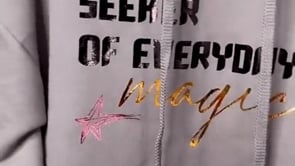 Material Overview
Create attention-getting designs including custom foil vinyl patterns and two-tone looks with Heat Transfer Foil. Add a metallic finish for a fashionable effect on any garment or promotional piece.
For long-lasting foil applications, use with CAD-CUT® Adhesive
Not recommended for use as a base layer in multi-color designs.
User Guide
Heat Transfer Foil
Application Instructions
Pressure:
Firm (60-70 psi)
Cut design from CAD-CUT® Adhesive, with adhesive side facing up
Weed away excess material and follow Adhesive application instructions
With colored side facing up, lay a slightly larger piece of Foil over applied design
Use a cover sheet and follow Foil application instructions
Once peeled, Foil adheres to the Adhesive only
Videos
Top 3 Reasons to Buy: CAD-CUT® Adhesive with Heat Transfer Foil
2021-04-16T17:15:00Z
Learn about one of the best heat transfer combos on the market in CAD-CUT® Adhesive vinyl and Heat Transfer Foil. These two products work great together and make it very easy to add a special effect look on to your garments. Watch as Josh highlights the top 3 reasons why you should consider these products and how they can best be used for your business. To order CAD-CUT® Adhesive today simply click the link here https://bit.ly/39YEir1 Also, you can order any color of Heat Transfer Foil online as well by shopping here https://bit.ly/3uBFEzH
How to Decorate Apparel with Heat Transfer Foil
2016-09-08T19:44:16Z
Metallic and foil finishes are extremely popular in apparel design but can be intimidating to create. This class will help you feel confident adding heat transfer foil as part of your product offering. In this video, Stahls' TV educator, Josh Ellsworth, teaches apparel decorators about CAD-CUT® Adhesive and Heat Transfer Foil, including how to create multi-color foil finishes, distressed designs, and predictable patterns. You can order Heat Transfer Foil rolls by visiting us here https://bit.ly/3lbLzrn Don't forget your CAD-CUT® Adhesive available at https://bit.ly/3gnHcpK -~-~~-~~~-~~-~- Liked this video? Then please watch: "5 Cool Ways to Use Heat Transfer Foil & Adhesive" https://www.youtube.com/watch?v=8p1Ze7wQ5dY -~-~~-~~~-~~-~- Connect with us online: Facebook: https://www.facebook.com/stahlsheatprinting Instagram: Stahlsheatprinting https://www.instagram.com/stahlsheatprinting Pinterest: https://www.pinterest.com/stahlsheatprint/ Twitter: @StahlsIDDirect https://twitter.com/StahlsIDDirect For more heat printing tips and tricks, connect with Stahls' Blog at https://blog.stahls.com/ -~-~~-~~~-~~-~- Liked this video? Then please watch: "5 Cool Ways to Use Heat Transfer Foil & Adhesive" https://www.youtube.com/watch?v=8p1Ze7wQ5dY -~-~~-~~~-~~-~-