Benefits:
Best heat transfer vinyl for iridescent designs
Unique high gloss sheen
Safe for children's clothing
Available In:
12" or 20" Wide Rolls
CAD-CUT® Chroma Bling Heat Transfer Vinyl
Unique Iridescent Vinyl
Order Now
Details
Click image to view larger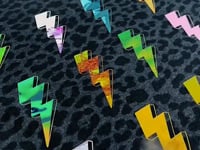 Material Overview
Create eye-catching designs with this special effect vinyl that changes color based on lighting and the garment to which it's applied. It combines a shiny metallic finish with iridescence and a hint of sparkle to create a truly unique visual effect.
Mirror-like high gloss finish
Safe for children's clothing
Not recommended for multi-layer applications
$7.50 Flat Rate Ground Shipping to most areas. Certain exclusions apply.
Note: Blue Shift and Clear Shift colors are semi-transparent and will change depending upon background color fabric.
Material Specifications
Composition: Polyurethane
Carrier: Pressure-Sensitive
Thickness: 150 microns (.15 mm)
Washability: 25
Safety: CPSIA Certified
Laser cutter compatible
User Guide
CAD-CUT® Chroma Bling Heat Transfer Vinyl
Application Instructions
1-Color Application Instructions
Pressure:
Medium (45 psi)
Machine wash warm.
Do not use bleach. Tumble dry, low heat on household machines. Cool iron, no steam. Do not dry clean.
Store in a cool and dry area around 65 to 70 degrees Fahrenheit with 50% relative humidity. Keep away from direct heat, sunlight and humidity. Recommended shelf life is one year.
Material/Fabric Compatibility
Material Combination Instructions
Foreground material:

Background material:

Cutter
Blade
Force
Offset
Speed
Roland GS-24
45°
120-150g
.25
25-30cm/s
Graphtec
45°
10-16
0
25-30cm/s
Note: Always test cut prior to any production run. For optimal cutting and weeding, maintain a line thickness of at least 1/16" for lettering & logos.
Videos
How to Heat Press CAD-CUT® Chroma Bling
2021-07-29T16:00:12Z
Learn the step-by-step instructions of how to properly heat press CAD-CUT® Chroma Bling to blank apparel. Watch as Josh Ellsworth walks you through how you can get a perfect application when using this CAD-CUT® product and the proper time, temperature, and pressure. To order CAD-CUT® Chroma Bling today simply click the link here https://bit.ly/3v5cERS
Top 3 Reasons To Buy: CAD-CUT® Chroma Bling
2021-04-16T17:15:01Z
Learn about one of the best special effect heat transfer vinyl on the market in CAD-CUT® Chroma Bling. This eye-catching heat transfer material is sure to help your designs stand out with its unique ability to change colors in the light due to its shiny metallic-like finish. Watch as Josh highlights the top 3 reasons why you should consider this product and how it can best be used for your business. To order CAD-CUT® Chroma Bling today simply click the link here https://bit.ly/3uI0s91